K-content is rising as a global phenomenon as Korea continues to create a variety of converged content, from films, series, and music to webtoons and games. In 2021, the K-content industry exports hit an all-time high, solidifying its position as an important pillar in the global content market. Renowned pop columnist Kim Tae-hoon and film critic Jeong Min-ah sat down to delve into the increasing influence of K-content in the international market as well as some successful global collaborations.
Broker and Decision to Leave heat up the Cannes Film Festival
Broker is a film directed by Hirokazu Kore-eda, a prominent Japanese art film director. Kore-eda, who had continuously shown his interest in working with Korean actors, brought together an all-Korean cast to make the film. This collaboration between a Japanese director and a Korean cast received critical acclaim and brought Song Kang-ho the honor of winning the Best Actor Award at the 75th Cannes Film Festival. Decision to Leave by Park Chan-wook is another global collaboration between a Korean director and a Chinese actor. The film quickly became a sensation when Park Chan-wook was awarded Best Director at the 75th Cannes Film Festival.

▲Park Chan-wook, Park Hae-il, and Tang Wei at the 75th Cannes Film Festival (left). A scene from Past Lives, a 73rd Berlin International Film Festival official selection (right).
Past Lives invited to the Berlin International Film Festival
In February, the global film Past Lives, jointly invested in and distributed by CJ ENM and A24, an entertainment company in Hollywood, U.S., was invited to compete in the 73rd Berlin International Film Festival. Directed by Korean-Canadian director Celine Song, the film starring Korean-American actor Greta Lee and South Korean actor Yoo Teo received acclaim from prestigious global media outlets, reaffirming the infinite potential of K-content through global collaboration.
JO1 and INI created through the Japanese version of Produce 101
Thanks to the growing demand for K-content, production companies are swiftly implementing localization efforts. CJ ENM collaborated with the Japanese entertainment conglomerate Yoshimoto Kogyo Holdings and established LAPONE Entertainment to produce the Japanese version of Produce 101. The show brought the boy groups JO1 and INI to the world. As soon as their debut, the groups swept the Oricon Chart, proving the know-how and skills of K-POP artist production in the Japanese market.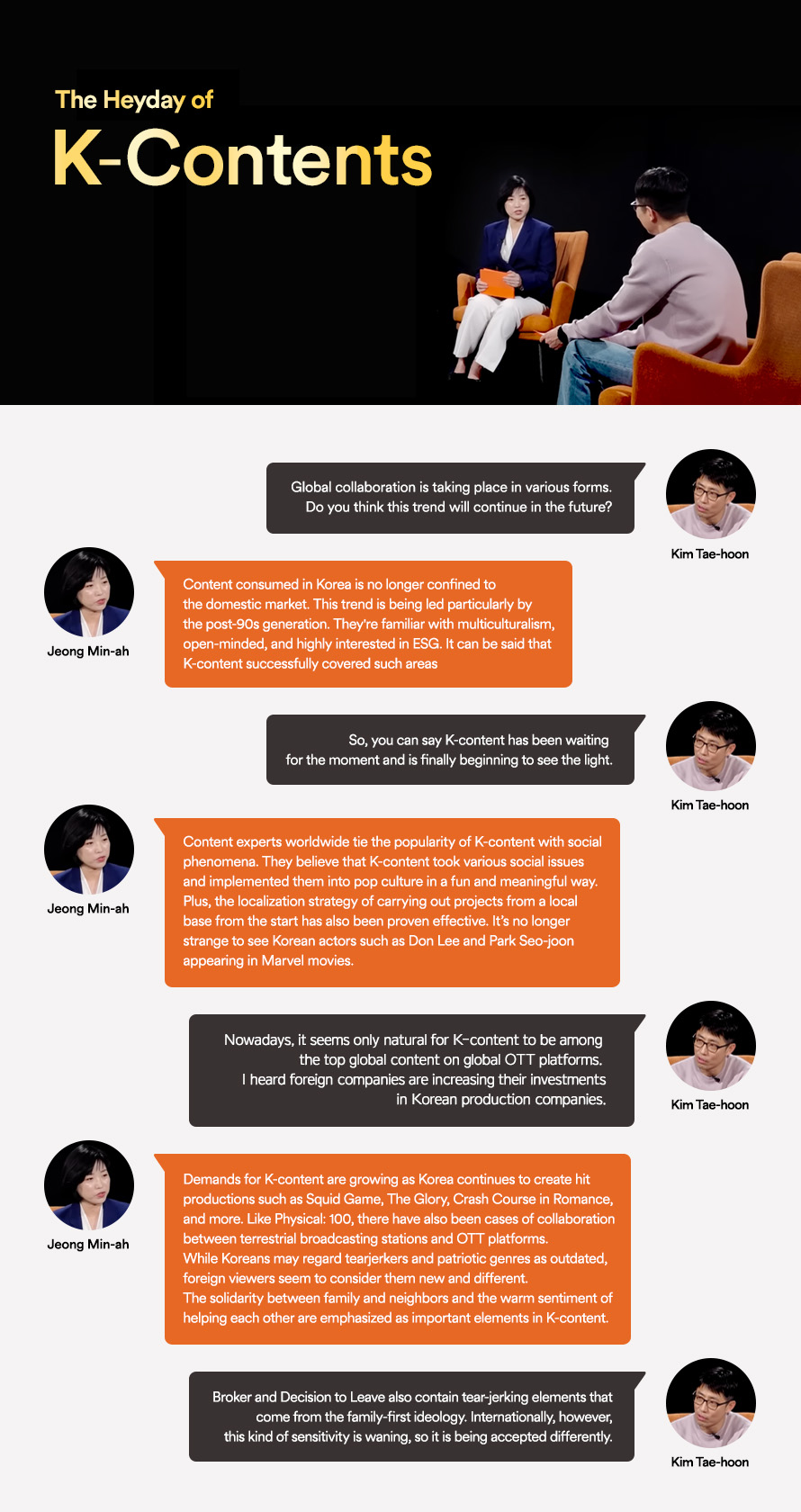 From Squid Game, The Glory, and Crash Course in Romance to BLACKPINK, NewJeans, and LE SSERAFIM, Korea is rolling out an endless feast of content. How did K-content become a global phenomenon?
Genre K-content has embedded in the everyday lives of global fandoms
Over 60% of Netflix paid subscribers worldwide watched at least one Korean title in 2022. In fact, K-content accounted for 6.63% of the top 10 global content on Netflix, ranking second worldwide. "Korean content is now a spirit of the times shared by the world and has established itself as a genre deeply embedded in everyday life," Netflix evaluated.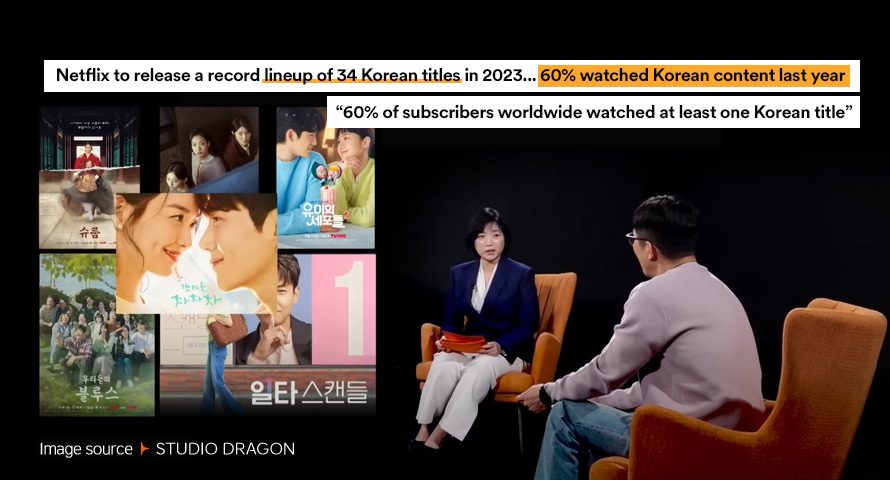 Content planning skills that allow direct engagement of fandoms
The rise of K-content as a trend can be attributed to its exceptional content planning skills. CJ ENM is proving its planning prowess by going beyond creating and providing content to organizing festivals that allow direct engagement of global fandoms. Events like KCON and KCON:TACT 4 U are examples of this strategy. Variety analyzed, "K-culture festivals grew into platforms that showcase Korean culture and suggested a way to target K-POP fandoms."
Generational shift driven by cultural diversity and openness
Above all, the shift in generations centered on Gen Z is playing a significant role in propelling K-content onto the global stage. The reason being that, unlike previous generations, which primarily enjoyed white-dominated Hollywood content, Gen Z, a generation that values cultural diversity and ESG, turns to K-content as an alternative. K-content incorporates various social issues into pop culture in a fun and meaningful way, breaking traditional stereotypes and reflecting the demands of Gen Z with alternative and hopeful narratives. Also worth noting is the active involvement of young creators, including K-POP sensations such as NewJeans and IVE, director Lee Chung-hyeon (33) of Bargain, actor Park Eun-bin (30) from Extraordinary Attorney Woo, and writer Jin Han-sae (36) of Extracurricular.

▲NewJeans, a girl group with an average age of 17.4 (left), IVE, a girl group with an average age of 19 (right). <Image source: Mnet>
CJ ENM has signaled the globalization of K-content. Expectations are high that it will continue to take the lead in propelling K-content toward the global stage.
※<BEHIND TALK> was produced based on CJ ENM YouTube channel's "Con Ssul Ting."