"I don't know any of this, K-pop or whatever. But now I'm now here as a big fan of K-POP."
"Wow, they were really amazing. I first saw BTS here, at KCON. It was a real big shock. They kicked, they jumped over one another, and every single move was perfect. 'Who are these cool performers?' I won-dered, and that's when I really started getting into them.
Soon I started searching for other groups, and now I'm a big fan of Wanna."
In the summer of 2018, a fan was singing K-pop songs on top of their lung at <KCON 2018 LA> - curly-haired, smiling from cheek to cheek. Spotting the 'STAFF' around my neck, it wasn't long until the fan came to up to talk to me. (Although she spoke English, I could barely understand half of what she was saying.) Also, she looked good because she was so delighted. And just like that, we were slumped down on the ground next to the concert hall looking at the pictures of BTS and Wanna One she and her friends had collected. They even had a pictorial magazine our team had planned and shot! 'This one! I made it. I even spoke with them!' I was tempted to say something because of my ridiculous love of fame, but as a "modest Korean," I bit my tongue in front of these "high-strung Americans." Anyway, with our common passion, we shared memories of such "festive summer days."

In 2022, after coming out of the pandemic, which looked like it would never end, we can once again hold the festival during the glorious summer months. For the first time in three years, <KCON 2022 LA> was held as an online-offline hybrid event, and it was filled with fans who were as passionate as the curly-haired fan I had met four years ago. KCON hits it's 10th anniversary this year. From the "first-ever" KCON at Irvine Verizon Wireless Amphitheatre in 2012 until KCON emerged as an "unrivaled" event, there have been true heart and passion to make KOCN not just a show, but a place where K-pop is really loved and enjoyed. This was made possible by an audience with a simple desire to find good things, enjoy them and help them expand. Two artists, K-pop legends who support and expect a speedy re-launch of KCON, met and talked about various things. They are "My Boy" Kim JAEHWAN, whom "the curly-haired girl" in LA cried for, and JAEYUN of TO1, whose hear twas 'drummin' to be at the festival of his dreams.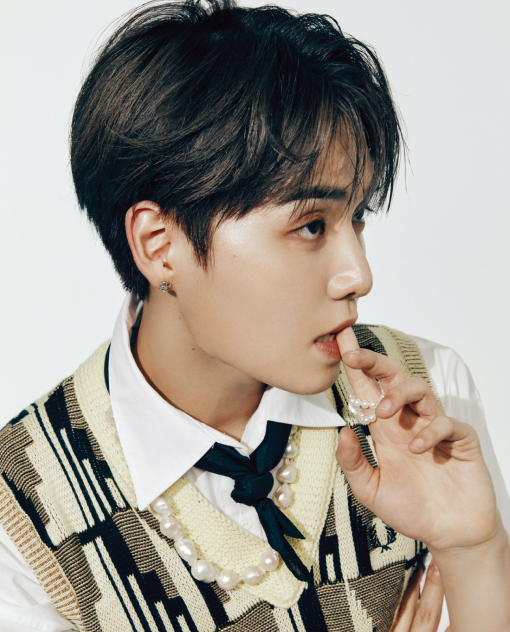 JAE YUN:
I'm so honored to meet you. I've watched so many of your performances because I really love your in-nocent face and explosive voice. I listened again and again and practiced singing along. Your high note is famous, but I really love your tone. I'm really impressed whenever I listen to the intro of "Nothing With-out You."
JAEHWAN:
Someone wrote a script for your interview with me, no? (Laughter) You're very generous with your com-pliments. I'm at a loss. Thank you for listening to my songs so much. I like TO1, so I'm watching it with interest. I also caught a performance of your new song. Your higher-quality voice really completes the song.
JAE YUN:
So glad you like our stage! I'll tell the other group members soon. They'll all be so glad.
JAEHWAN:
'You had put on quite a show at the 'KCON 2022 LA'?
JAE YUN:
All of the members were hyped and really enjoyed performing. Initially we intended to pump the audi-ence with good vibes but it was actually the fans who lead the positive energy flow through us.
JAEHWAN:
There definitely was so much energy and excitement at the scene. It's almost natural to feel more excited when you're with fans like that, and it just makes it more fun for all of us. You must have felt especially excited to meet your fans since it's been quite a while.
JAE YUN:
Right. As we made our debut during the COVID-19 era, we had no opportunities to meet fans in person. Now that we can perform on stage and communicate with the audience, we are really excited. I feel great when I see people enjoying our performance and singing along. I'm filled with emotion and really happy. I hope there will be more opportunities to spend time with fans. I really liked communicating closely with fans through the 'Meet & Greet', etc. although the performance was really good as well. And we enjoyed the rest of KCON as part of the audience. it was not just K-pop, but we can also experience and enjoy a variety of K-culture, like movies, food and beauty.
JAEHWAN:
I also cannot forget the first KCON stage. Everything was new and my heart was pounding so fast. Also, the response was amazing, more than I'd expected. I was really looking forward to learning from the greatest performers, and also just happy to get to meet our global fans. Now that I'm here, I can actually see crowds holding my picture and screaming our names. But so many people supported us, even hold-ing up my photo and yelling our names. I can't explain in just a couple of words what I felt back then.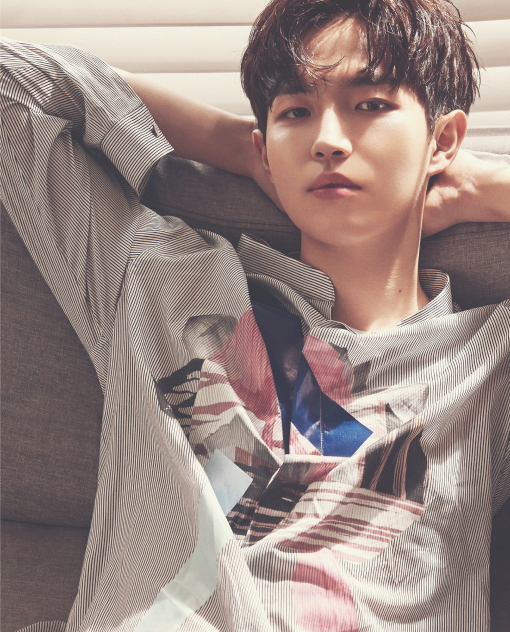 JAE YUN:
You got the goosebumps? Touching? Something like that?
JAEHWAN:
Right. The most surprising thing was that such a wide variety of people were crazy about us. We thought there would be lots of Koreans or Asians, but there were fewer than we expected. I realized we were on the real global stage. Also, I'm proud to be a singer who's leading K-pop and K-culture. I realized what I am doing now is cool and valuable. Attending KCON several times, I feel that KCON could be the very reason K-pop is growing more and more popular. As an artist, I feel there aren't much opportunities to meet with fans around the world, but with KCON, we get to showcase more music performances which leads to the growing popularity of K-pop.
JAE YUN:
What is your favorite KCON performance?
JAEHWAN:
I have to say, it's the one when I showcased my first solo album. It was my first time to perform as a solo artist, and to performance at KCON - out of all places - just made me more nervous and excited.
JAE YUN:
There certainly is something different about KCON, right?
JAEHWAN:
It's definitely a proud moment for us both K-pop artists and fans. It's a festival that makes us artist come together and at the same time, fans unite within their love and passion for K-pop.
JAE YUN:
I read from an article that fans from all over the place - literally all over - come to KCON LA to meet us. Even all the way from Europe. Even before K-culture became the global hub it is now.
JAEHWAN:
It's like the biggest event of the year for those who like K-pop and K-culture. Also, as K-pop has become more influential, it's now a music genre itself. It's an honor as an artist to participate in such a big event. I think it's meaningful that we got to come together. It's important that we put on a good performance but communicating with fans, meeting eye to eye, is as important. It's also a great learning experience for us on interacting with our fans.
JAE YUN:
That's why we were so nervous. (Laughter) We rarely perform in front of so many people and this is a stage we've dreamed of for a long time. Actually it is a stage that countless trainees and rookies aim at, isn't it? It's also an opportunity to pivot toward the big goal of becoming a global musician. After seeing the site shots and broadcasting, we said, "Can we play there some day?" "I'll work hard to get there!" I remember now.
JAEHWAN:
Right. Me too. A dream stage, which has come true. Moreover, a stage that we dream of to make another dream reality! I think KCON is like that. DAEHWI, who has worked as an MC, also mentioned this. "Now I've fulfilled my dream." KCON is also a good opportunity to promote us to people who don't know about us, although many of our fans came to see us. We've resolved to make our best efforts to surprise and impress them. Maybe people read our mind. We got a lot of praise and compliments.
JAE YUN:
I also expect to see something new, which we've been excited for. I watched previous KCON perfor-mances while preparing this year's show, and it was inspiring to watch musicians collaborate and cover each others' songs. I also saw graphics showing how KCON communicated through online channels with fans during the pandemic. It made me wish we were all together, but hearing them cheer was enough. It was definitely a different experience. I think it's a great advantage that we can grow as artists through new experiments at KCON.
JAEHWAN:
Yes. I personally liked that we could do songs with a different feeling than the title songs we often do. Frankly speaking, as long as the group is not major enough to have a solo concert, it is difficult to play songs other than title songs before an audience. Or more precisely, before a global audience. I have a related memory. We performed on a unit stage at <KCON 2018 NY>. It was the song "Kangaroo" per-formed with DANIEL and WOOJIN. We wore a suit for this performance and we had an unforgettable time with our fans. I moment still lives with me. I heard that many fans said it was legendary. Someone left the comment, "I feel like crying. I was so impressed by JAEHWAN's vocals covering a wide range of genres."
JAE YUN:
I also hope that TO1 will showcase its hidden skills and talent. And meet with more people, more often. After this year's KCON at LA, we're going to head out on for the 'KCON US TOUR'. We were selected as 'KCON 2022 Rookies' and we'll be meeting with fans in six cities. We prepared several special stages, so stay tuned!
JAEHWAN:
I want everyone to have a good time. It's your first "KCON," and the memories will last a lifetime! And it's also a precious occasion where we can turn our vague dreams and hopes into a reality! Although music comes in languages unfamiliar to most people, it is itself a language that can inspire countless people. I am so curious and proud to create such magic as an artist. And KCON is really amazing because it has provided an opportunity to turn potential into surprising reality for 10 years. Maybe this surprise will con-tinue expanding. As long as we keep dreaming and making an effort. That's why people say dream en-ergy is so powerful.