From traditional broadcasting to YouTube and even OTT, K-Variety Shows are leading the trend. Let's delve into the success stories of K-Variety Shows, which aim to advance into the world through innovative attempts and fresh perspectives, as shared by columnist Kim Tae-hoon and Pop Culture Critic Jung Duk-hyun.
Vanguard of the Golden Age of Korean Entertainment, Infinite Challenge
Since the early 2000s, variety shows have emerged as a distinct genre in broadcasting. This transformation saw a comprehensive shift in concepts, approaches, consumption patterns, and production methods as existing programs, commonly referred to as "Entertainment," transitioned into "Variety Shows." A representative program that showed this shift was Infinite Challenge, which aired on MBC for 13 years.
Before the 2000s, entertainment programs mainly featured comedians, aiming to bring laughter to the audience. Production was primarily confined to studio settings with activities such as games and quizzes, but Infinite Challenge marked a turning point as it ventured outdoors, sparking the rise of outdoor variety shows. The elements of fun, once centered solely around humor, expanded their horizons to visual delights, including emotional moments, wilderness adventures, and mukbang.
These changes in the production environment led to the development of smaller and lighter filming equipment, which, in turn, transformed not only the physical spaces but also the sensibility of the program. As programs transitioned from controlled studio environments to the unpredictability of the outdoors, new scenarios and situations became possible. By showcasing fresh potential through realistic on-site entertainment, Infinite Challenge undoubtedly emerged as a flagship variety show that led the golden era of Korean entertainment.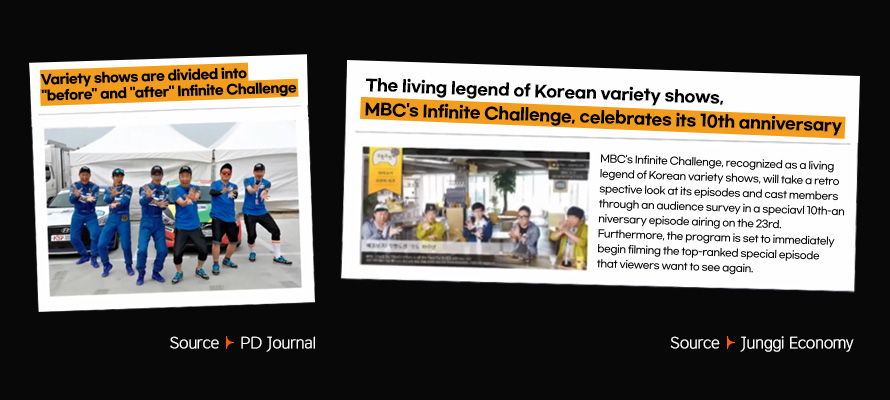 Bridging Familiar Formats with the Latest Trends: Earth Arcade
By introducing character shows and situational drama into reality-variety programs, TV variety shows are evolving into a new realm of real variety. Within the rapidly changing media landscape, the genre of variety shows is also experiencing waves of transformation. One of the most notable changes is the growing dominance of web variety shows designed for easy mobile viewing. As variety show producers strive to captivate both traditional viewers and consumers of web entertainment, Earth Arcade, which recently wrapped up its second season, stands out as a program that mirrors the latest trends in the media landscape.
Under the new concept of a real travel variety show, Earth Arcade, produced by the highly esteemed variety show producer Na Young-seok, has garnered not only top ratings but also sparked significant buzz as it follows the journeys of four heroes through time and space in pursuit of a moon rabbit. Following its success in Season 1, Season 2 solidified its position as a top-ranking program on OTT channels, particularly among viewers aged 10 to 20. Impressively, it was the only TV program nominated in the entertainment category at the 59th Baeksang Arts Awards in 2023, receiving recognition for its artistic value as well.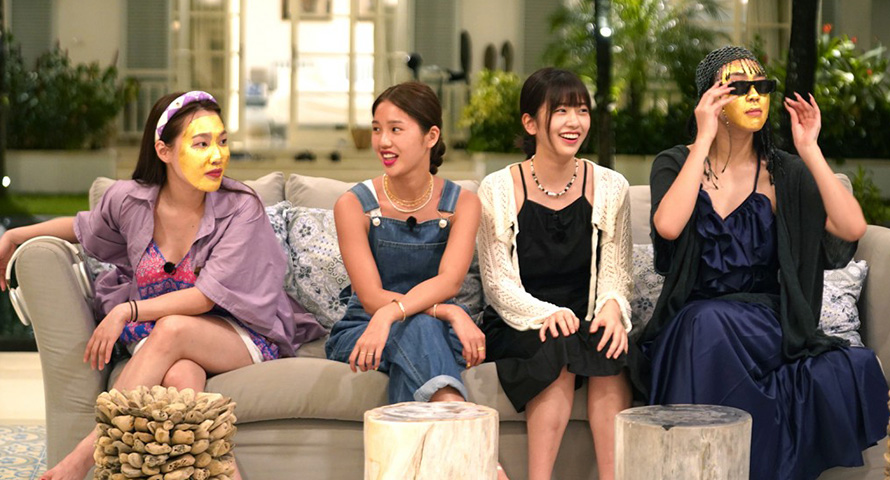 ▲ Earth Arcade 2 Cast Members: Lee Eun-ji, Mimi, An Yu-jin, and Lee Young-ji
The success of Earth Arcade strongly relies on its ability to engage existing audiences with a familiar format and a cast optimized to reflect the latest trends. The four cast members, Lee Eun-ji, Mimi, Lee Young-ji, and An Yu-jin, throw unexpected situations at the production team, providing catharsis to viewers familiar with web variety shows and a sense of comfort and familiarity to general viewers. In essence, the production team seamlessly becomes an integral part of the program, assuming roles as creators that go beyond the conventional producer's role and even leveraging their moments of surprise to enhance the show's entertainment value.
A Format You've Never Seen Before! The Beginning of Web Variety Shows: New Journey to the West
Producer Na Young-seok unveiled the web variety show New Journey to the West on Naver Cast in 2015. It was the first content created by general media staff and cast, premiering on the Internet while adapting various platforms for each season. Season 1 was exclusively available on Naver TV, while from Season 3 onwards, it transitioned into a regular show and utilized online platforms to upload unaired or edited versions.
The New Journey to the West series, running through Season 8, is evaluated as a groundbreaking program that pioneered the web variety show landscape in the late 2010s with its free format and distinctive captions using dialects, Internet jargon, and emojis. Producer Na Young-seok's success in captivating the audience through the web variety shows at that time proved his move wasn't a mere coincidence.

▲ Producer Na Young-seok is operating a digital variety show channel called "
Channel Fullmoon
"
on YouTube and experimenting with various web variety show formats.
Variety Shows Targeting Digital Platforms
Recently, self-produced content specifically targeting digital platforms is on the rise, extending beyond the traditional One-Source-Multi-Use method of sharing existing variety shows on various platforms. Notable examples include web-original variety shows like Türkiyish on the Block and Mouth on Wheels, both produced by CJ ENM's digital variety show channel, "STUDIO WAFFLE."

▲ With the surge in popularity of web variety shows, CJ ENM's digital variety show channel "STUDIO WAFFLE"
currently boasts 1.43 million subscribers.
Türkiyish on the Block, a parody of You Quiz on the Block, has made a significant impact on web variety shows as an interview-style talk show that advocates an ultra-low budget street talk show. Meanwhile, Mouth on Wheels, a talk show featuring eloquent cast members freely sharing their experiences and thoughts on a given theme, captures the essence of web variety shows, boasting an average viewership of nearly 2 million. The show's unconventional format and freshness, not commonly seen in mainstream variety shows, have been its primary strengths, allowing it to run for three seasons based on its high popularity and buzz.
Web variety shows were originally influenced by TV variety, but the current trend shows a reversal of influence. Earth Monopoly Around the World, which was recently aired on ENA, has garnered substantial attention through the collaboration of Kim Tae-ho producer and the three major travel creators, Pani Bottle, KwakTube, and Wonji. This program is considered unique as it features web variety show cast members leading a world-traveling program, a genre traditionally reserved for TV broadcasting channels. Producer Kim Tae-ho, formerly known as "MBC's Flagship PD," has ventured into diverse platforms and formats, leading the way in media trends.
The Growing Significance of "Reality" in Rapidly Changing Trends
In the world of variety shows, the term "reality" has become an indispensable keyword. "Reality" is becoming increasingly crucial in variety shows that traditionally revolved around hypothetical scenarios based on artificial gaming and rule-based behaviors. In today's world, where anyone can become a creator, content consumers are also regarded as producers, making them more sensitive to scripted or fabricated situations. With the ability to objectively discern false scenarios, viewers have significantly shifted their perspectives on TV broadcasting content. As a result, they are showing a growing preference for web variety shows that authentically depict a wide range of situations.
Leading the Trend: K-Variety Shows This is the perfect time to explore ways to broaden the spectrum of local K-Variety Shows and share them with a global audience. For instance, "Jinny's Kitchen" achieved global recognition through meticulous planning and the participation of international stars such as V from BTS, Park Seo-joon from The Marbles, and Choi Woo-shik from Parasite. The combination of international stars and well-planned programs serves as a potent method for globalizing K-Content. Much like the success of Youn's Kitchen, which seamlessly blends travel and culinary delights, the fusion of prosperous genres or elements can prove to be a winning recipe for K-Variety Shows. With K-content currently in the spotlight across diverse domains, this is an opportune time to actively develop variety-show content that draws inspiration from these successful items.

▲ "
Jinny's Kitchen"
garnered local attention by blending travel and culinary concepts
and featuring the participation of global stars.
K-Content can be described as a blend of diverse subjects and original production styles. In the rapidly evolving media landscape, variety shows, which are gaining increasing attention these days, are hoped to evolve into K-variety Shows that resonate with the global audience, extending beyond the boundaries of South Korea.
※
<BEHIND TALK> was produced based on CJ ENM YouTube channel's "Con Ssul Ting."