Last year, K-content left an indelible mark on the global stage, capturing audiences across various genres such as films, dramas, music, and webtoons. This remarkable success prompts us to explore the driving force behind the influence of K-content. Join us as we delve into the K-content trends with renowned pop columnist Kim Tae-hoon and content media industry expert Noh Ga-young.
Setting New Milestones: K-content Making the First and Best Records
Director Park Chan-wook's film, Decision to Leave, earned him the prestigious Best Director award at the Cannes Film Festival, marking the first win of its kind in 20 years since Im Kwon-taek's victory in 2002. Squid Game made history by becoming the first non-English series to win both Best Director and Best Actor at the Emmy Awards, a distinguished ceremony with a rich history spanning over 70 years.
K-content has gained significant popularity on OTT platforms, which have emerged as the focal point of the global media industry. Building upon the success of highly acclaimed series like All of Us Are Dead, Narco-Saints, and Extraordinary Attorney Woo, The Glory swiftly claimed a spot in this year's Top 10 list, once again highlighting the immense influence of K-content. The power of K-content shines through on OTT platforms, where simultaneous global releases allow the content itself to resonate deeply with viewers worldwide.
K-POP's global reach extends beyond the North American market and is making significant waves in Europe. Last year, the term "K-POP" received official recognition in the prestigious French encyclopedia "Petit Larousse 2023," while BLACKPINK created history as the first Asian female group to dominate album charts in both the United States and the United Kingdom.
Additionally, the song "Dreamers," performed by Jung Kook of BTS at the 2022 Qatar World Cup opening ceremony, became the first-ever official theme song in World Cup history to reach the top on the US Billboard's "Digital Songs Sales" chart. Notably, Jung Kook's exceptional talent earned him a place on Rolling Stone's prestigious list of "The 200 Greatest Singers of All Time."
These accomplishments serve as a testament to the relentless dedication and unwavering perseverance of K-content professionals who have overcome domestic market challenges.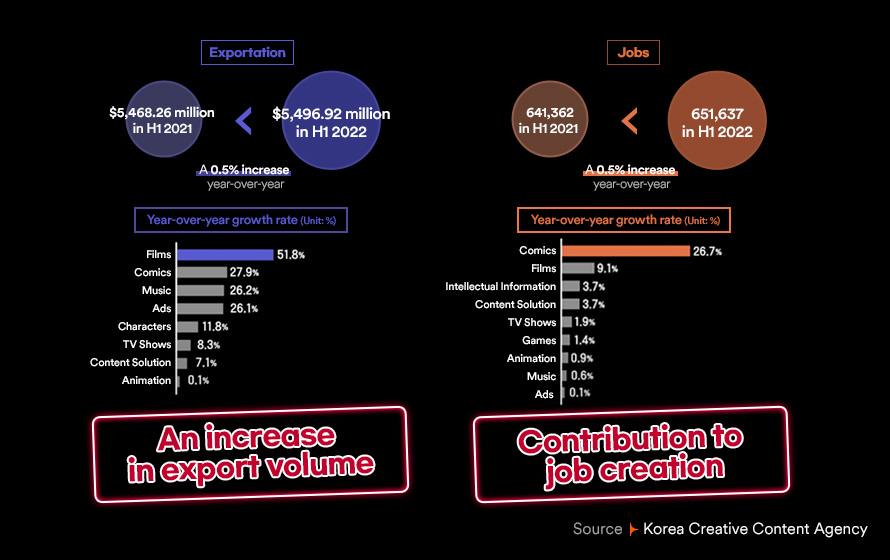 K-Dramas Garnering Attention from the Global OTT Industry
Global popularity and interest in K-content continue this year as well. The first half of the year saw the release of sensational dramas such as Duty After School, Island, and The Glory on OTT platforms, with the expectation now growing for highly anticipated sequels such as The Uncanny Counter 2 and Arthdal Chronicles: The Sword of Aramoon, scheduled for the second half of the year.
As the status of K-content is increasing in the global market, it sparks curiosity about the current trends in the global content market. First of all, Netflix, a prominent player in the entertainment industry, witnessed a decline in subscriber numbers for the first time in 11 years during the first half of 2022. However, during the same period, it observed growth of 1.1 million subscribers in Asia.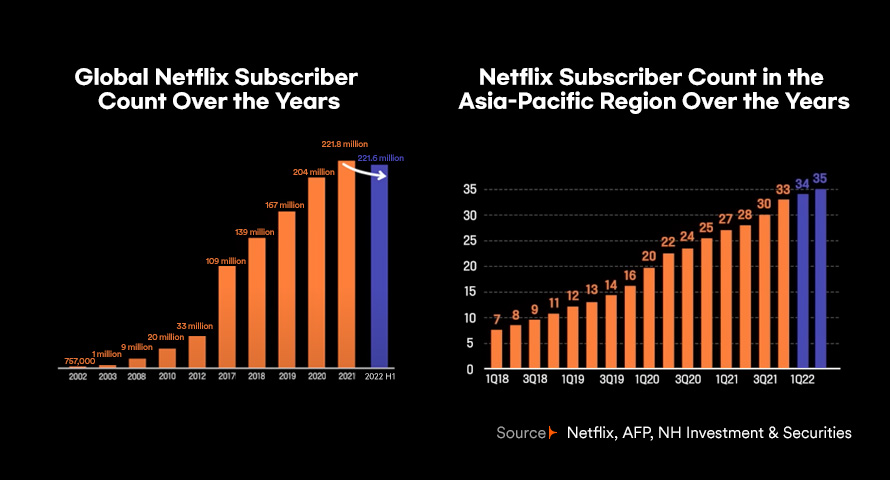 The growth potential of the Asian market, demonstrated by subscriber trends, has piqued the interest of the global OTT industry in K-content, the leading content from Asia. Amidst increasing competition among various platforms and the abundance of available content, companies are turning their focus on existing works that have already been proven successful as their content base.
In contrast to original content that requires marketing efforts from the ground up, content based on existing works enjoys the advantage of having a pre-established fan base and recognition, providing it with a competitive edge. As a result, production studios are engaged in intense competition to acquire original IPs such as webtoons and web novels, seeking to gain a competitive advantage in the content market. In the midst of this competition, CJ ENM is swiftly adapting to the evolving content market by releasing a series of dramas based on popular webtoons, including Shark: The Beginning, Island, and Duty After School.
K-Variety Shows : The Rising Force of K-Content
Until now, the globalization of variety shows has been relatively slower compared to dramas. The globalization of variety shows has been somewhat limited in comparison to other genres due to the diversity in humor and sociocultural discourse across regions and countries. However, there has been a recent surge in format exportation, leading to a revival of interest in K-variety shows. The widespread adoption of the format export method has enabled the production of K-variety shows that cater to the unique characteristics of each region within a local country.
I Can See Your Voice, which celebrated its 10th season in Korea, stands as a notable case of successful K-format exportation, having been exported to 28 countries across the globe. The characteristics of successful formats are global sales, longevity across multiple seasons, and significant accumulated earnings. Furthermore, global sales can be achieved while safeguarding the source IP, distinguishing it from OTT platforms.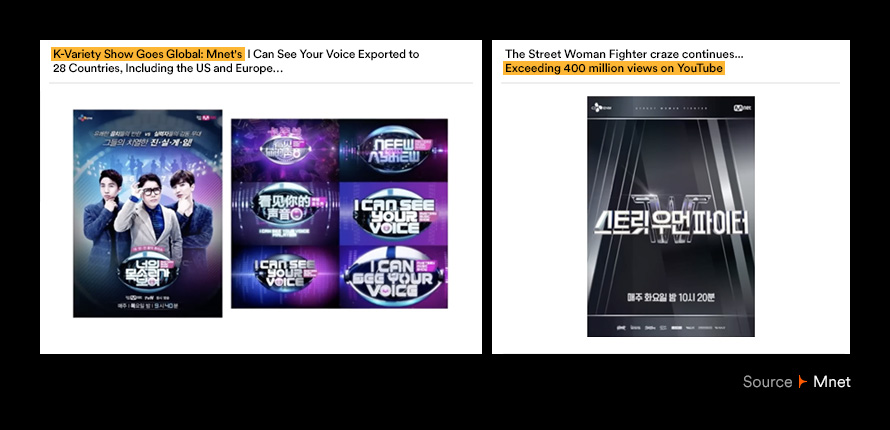 On the contrary, Street Woman Fighter serves as a notable example of a K-variety show that achieved success without localization efforts. The show achieved global success by becoming a viral sensation worldwide, with its YouTube clips amassing over 400 million views. Single's Inferno, a captivating show portraying the love dynamics among single individuals stranded on a deserted island, made history as the first Korean program to enter Netflix's global Top 10 list without localization, demonstrating the potential of K-variety shows.
Considering the different successful cases, it is crucial to establish diverse globalization strategies for K-variety shows, including exporting formats, enhancing digital variety shows, and fostering synergy between domestic TV channels and YouTube platforms.
K-Webtoons : A Rebirth as an IP Source
K-Webtoons are experiencing a surge in global popularity, mirroring the success of dramas and films. When webtoons first ventured into global markets in 2014, they were an unfamiliar genre in the North American market. Nowadays, K-webtoon platforms have garnered widespread global recognition to the point where they have attained top rankings in countries such as the US, Japan, and France.
Apart from the platform itself, there is also a growing spotlight on dramas based on K-webtoons. All of Us Are Dead, Hellbound, D.P., Yumi's Cells, Island, and Duty After School are all examples of dramas that have been adapted from popular webtoons. In contrast to Hollywood dramas that predominantly feature superheroes, these dramas are gaining popularity for their insightful social commentary and emphasis on relatable subjects such as family and neighbors.
Conversely, it is quite common to witness the adaptation of successful dramas into webtoons. Extraordinary Attorney Woo and Good Doctor have been transformed into webtoons, and there are ongoing plans to adapt other successful dramas such as Successful Story of a Bright Girl, Temptation of Wife, and Rooftop Prince into webtoon formats. With their limitless potential, K-webtoons are actively exploring ways to evolve and transcend traditional genre boundaries.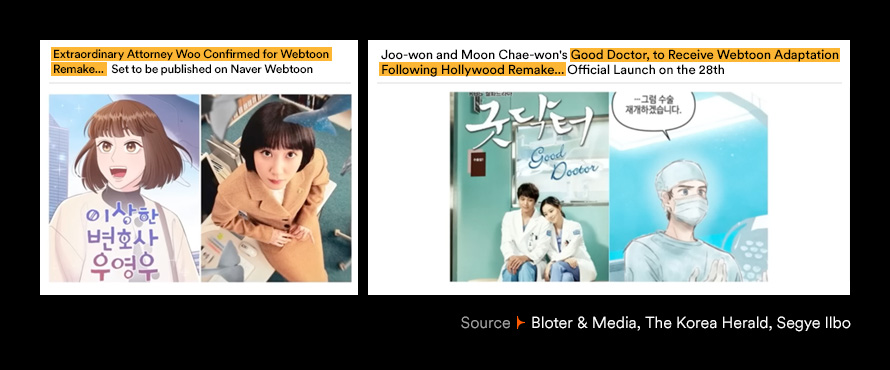 In light of the swiftly changing trends, which path should our content industry embark on to enhance its competitive edge? The concept of "convergence" should be our primary focus, encompassing the fusion of genres and formats, as well as fostering collaboration and creating a synergy effect among individuals and companies. By establishing an efficient decision-making process that facilitates rapid and seamless communication between companies and studios and harnessing the capabilities of our advanced digital infrastructure, K-content can gain a significant competitive advantage in the industry.
The year 2023 will witness notable transformations and expansions in the content market as various forms of content, including videos, webtoons, and web novels, converge and integrate with diverse industries. We hope our unique and competitive IPs will serve as valuable assets that set K-content apart and captivate global audiences.
※<BEHIND TALK> was produced based on CJ ENM YouTube channel's "Con Ssul Ting."